Health benefits of maintaining school instruments is now paramount 
Having inspected tens of thousands of school instruments while doing installations of Optimo over many years, we have seen numerous examples where cleanliness and maintenance of instruments was in desperate need of attention. Thankfully, in those schools, with a greater awareness of the condition of their instruments and the desire to provide students with better resources, has lead them to implement the Preventative Maintenance Program.
Current world events show just how prevalent the spread of viruses is and how easily communicable they can be.
Strategically placed dispensers of germ killing hand cleaners are now being placed in some music departments. We all know about the spreading of germs through hand contact, so even picking up another person's instrument is not recommended. Avoid sharing any instruments including percussion or string instrument before cleansing your hands.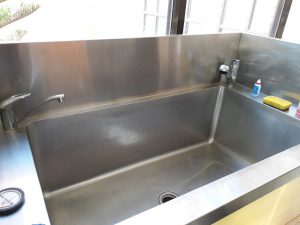 There are schools where instrument cleanliness has been made a major factor in the Music Department. Special washing facilities to take the largest instruments have been installed and every year, every brass and woodwind instrument is thoroughly cleansed in readiness for the commencement of the following school year. Percussion and string instruments are likewise thoroughly cleaned prior to the end of the year.
Preventative Maintenance Program
Many schools have now instituted a Preventative Maintenance Program which means that every instrument is inspected by a qualified repair specialist after the school closes for the year. The repairs are done on the spot and instruments requiring more detailed work are removed to a workshop, repaired and then returned to the school prior to the commencement in the new school year. This could be the answer for your music department and we recommend it become a priority. While it costs some money, experience proves that it ultimately saves large amounts of money because minor problems can be identified and rectified before developing into major problems.
Keeping a record of all your instrument repairs in Optimo is of great benefit and it becomes quite clear that the costs of maintaining instruments are reduced when you use a Preventative Maintenance Program.
For more information contact us on 02 9940 0229.